It's a tremendous honour be asked to spend an evening with a British design great and that's exactly what I'm doing on 15 May at 7pm at The Lightbox Museum in Woking.  You simply have to join me too!
Kenneth Grange is responsible for the design of many products that we use or see in our everyday lives from the re-design of the London Black Cab and the Intercity 125 train to Kodak cameras and Parker pens. In 1958 Kenneth Grange founded the company Kenneth Grange Design Ltd of which electrical appliance manufacturers Kenwood and Kodak soon became the initial chief clients.
I last had the opportunity to interview Kenneth Grange when I was writing my book on Post-War household design (Are You Rich?).Then we delved into his work for Kenwood, most specifically his redesign of the iconic Kenwood Chef in 1960, which he crafted on paper in just four days.  Grange transformed the 'Chef' from an industrial looking mixer to a sleek, modern, squared-off design that gave the Kenwood Chef a high-tech desirability.<!> Good Housekeeping Magazine voted Grange's resulting "sheer look" food mixer, "the British housewife's all-time favourite kitchen appliance."
This neatly dovetails into the Exhibition that's the backdrop for my "In Conversation" evening:  'The Art of Design: Kenwood in the Kitchen'  - runs until 24 June.
The exhibition unwraps the tale of Post-War appliance design, following the creative journey of Kenwood products, including products designed by Kenneth Grange. He continued designing for Kenwood (amongst other companies) for 40 years, designing over 100 domestic appliances for the company.
Grange's innovation-led product design, during a career spanning over 50 years, has recently been the subject of a major retrospective at the Design Museum, which showcased just how big an impact one product designer has had on products and appliances that shape our everyday lives.
'In Conversation with Kenneth Grange' will be a unique opportunity to hear the inside story of such a prolific career as well as his personal reminiscences of working with Kenneth Wood during the early years of Kenwood before being sold to Thorn Electricals in 1968, all whilst supporting The Lightbox Education Programme.
Tickets £20 (adults) £16 (concessions) – includes a glass of wine and a chance to chat to me too! Advance booking is required, tel 01483 737837.
All proceeds will support The Lightbox Education Programme.  
дома из железобетонных конструкцийинтересный факт про технику полноцветной печати на потолкелоган 2013 годабмв х5 лучший кроссоверввоз больших грузов в тайландкак определить болезнь винограда и лечениеландшафты европысвадебное платье из гарри поттерахарактеристика направления моды на 2013 годгражданско-правовое средство защиты прав обладателей патентаusb зарядка на батарейках сам
витраж в стиле арт-деко вредны ли плиты осб боксы автомобильные похожие на thule масло тойота для grfe двигателя wms склад одежды виноград солярис достопримечательности нарьян мара маникюр сламаные нокти мода и эстетический вкус человека 21 века власть в современной украине купить cinemizer oled
cheap cialis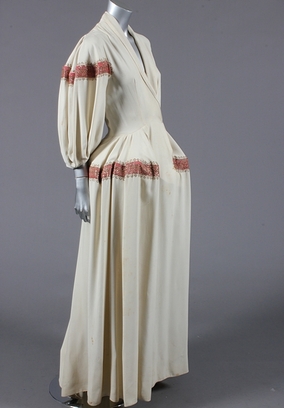 Now I've had my fair share of good finds over the years (most recently on my Put Your Money Where Your Mouth Is series for the BBC) and I'd love to say that this one was mine… but sadly…  it was the lucky chap who was out foraging at in a London street market who struck gold. The photograph I've included shows a rather glamorous and hugely rare Lanvin from 1945 but when the lucky shopper first spotted it, this dress was cumpled, cast aside and looked somewhat forlorn. It was only a discrete Lanvin label that encouraged him to part with £70 for the dress. And how clever that was. After a spot of professional cleaning to remove the grime and stains it was escalated to stardom becoming the top lot in Kerry Taylor's 17th April auction. There was a complete buzz in the air as the room saw a bidding war break out. Three telephone bidders jostled for the top position and finally, this glorious piece was sold by Kerry to a European private collector.
The dress label helps to date it to 1945 – a year before Jeanne Lanvin died and the year of liberation from German occupation at the end of World War II. The House of Lanvin stood at 22 Rue du Faubourg Saint-Honore and even when the first German troops enterered Paris in June 1940, Lanvin remained open. "It is necessary to adapt to present circumstances by creating simple things, which will be very beautiful," Jeanne Lanvin said at the time.
What also made this dress unique was that a miniature version of it appeared in 'Le Theatre de la Mode' – an exhibition of the best of French couture which was displayed on dolls and exhibited in Paris and London in 1945 in aid of post-war charities. Lucien Lelong the president of the Chambre Syndicale de la Couture Parisienne, spearheaded the exhibition which aimed to show the best of French haute couture – but in miniature. In the introduction to the exhibition catalogue it stated "The French manufacturers seek to convey to London for the first time in five years, their faithful remembrance and deep feelings of sympathy" in reference to Britain's war-dead. He also stated that the exhibition was "but the latest of a series of activities whereby the Paris Fashion Houses have sought to safeguard their independence and their workers, while contributing towards the funds of `Entraide Francaise…it is not intended to represent luxury or lavish use of materials; it is instead a proof of ingenuity and good taste"
The unusually generous hip line was made possible by discrete horse hair panniers beneath. One of Lanvin's claims to fame in her early career was the 'Robe de Style' which also used panniers to emphasise and extend the hip line, which was widely imitated in the early 1920s. Before and during the war, Lanvin had dressed many actresses who played leading roles in historial stage and screen dramas, which made her obvious historical references even more fitting.
A wonderful tale of precise provenance and a spot of good luck combined – now that's inspiration for us all – well done Kerry!
Image: copyright Kerry Taylor Auctions
What a pleasure it is when you're surrounded by the finer things in life. And you can't get much finer than the thousand or so compacts, carryalls, handbags and accessories that formed the centrepiece of the BCCS (British Compact Collectors' Society) convention (www.compactcollectors.co.uk).
When you've spent months curating a world-class exhibition ("Snap, Crackle and Pop: British Pop Art meets the High Street in the Swinging Sixties", you're always anxious on the opening night.
It's wonderful being a Club member of Brooklands Museum (www.brooklandsmuseum.com) – you get to sneak over there whenever the moment takes you to savour Britain's aviation and motoring heritage.
It struck me whilst looking at the new season's collections that this year, the fashion industry is doing what it does best – drawing respectively from the past. Black lace was all the rage from the mid to late Victorian era, beloved by Queen Victoria and the Empress Eugenie of France (Napoleon III's wife), the latter even expressing a preference for lace over jewellery.
It was a real treat to get up close and personal with one of Victor Stiebel's most magical creations – the ball gown he designed for the British film actress, Margaret Lockwood. I can barely describe how glorious it is to see the midnight blue tulle, which overlays lashings of cream chiffon, sparkling with golden embroidered stars and spangles. Lockwood chose to unveil Stiebel's design at the inaugural Royal Film Perfomance in Queen Elizabeth's reign, which saw thousands gather at The Empire, Leicester Square on 27th October 1952. No doubt it turned heads as she floated through the crowds with film director, Herbert Wilcox.